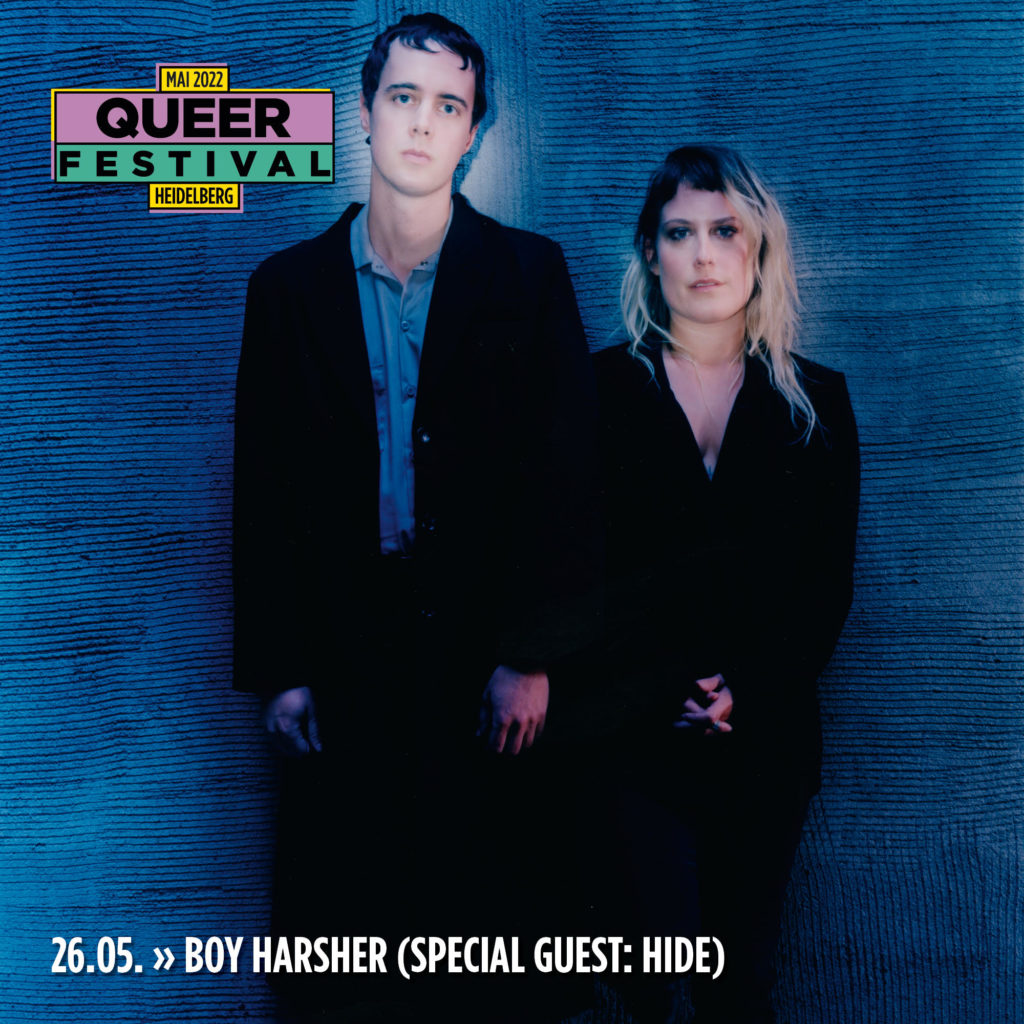 Support: HIDE Before/After: DJ Lukas Dos Passos
DAS KONZERT IST LEIDER ABGESAGT: INSTAGRAM BOY HARSHER
Do 26.05.22 / 20:30
Einlass 19:00
Metropolink's Commissarry PHV, South-Gettysburg-Avenue 46, 69124 Heidelberg
Informationen zu Anfahrt und Shuttles hier: Anfahrt
VVK 27,40 € / AK 28 €
RSVP via Facebook

Bereits zum dritten Mal kommen Jae Matthews und Augustus Muller alias Boy Harsher im Rahmen des Queer Festivals nach Heidelberg. Dieses Mal verlassen wir die Alstadt und freuen uns dank der Einladung des Commissary, mit dem US-amerikanischen Duo, das Patrick-Henry-Village zu besuchen. Mit im Gepäck, das gerade auf ihrem eigenen Label Nude Club erschienene Album, bzw. den Soundtrack  zu ihrem Film "The Runner".
Seit 2014 haben Boy Harsher kontinuierlich Material veröffentlicht, was viele wohl als den Goldstandard des Darkwave und New Industrial bezeichnen würden. Matthews und Muller lernten sich bei ihrem Filmstudium in Savannah kennen, wo Matthews Drehbücher schrieb und Muller Musik für nicht existierende Filme komponierte. Ihre erste EP "Lesser Man", wurde ursprünglich in einer kleinen Kassetten-Auflage veröffentlicht, fand aber schnell Anklang im Internet und wurde ein Underground-Hit. Die 2016 erschienene LP "Yr Body is Nothing" und die 2017 erschienene EP "Country Girl" brachten das Duo auf ausgedehnte Tourneen und ausverkaufte Shows in den USA und Europa, wo sie für ihre rücksichtslosen und mitreißenden Live-Auftritte bekannt wurden. Diesen Schwung konnten Boy Harsher auch direkt in die 2019er LP "Careful" mitnehmen, die von NPR Music, Pitchfork, Resident Advisor, VICE und viele anderen in den Himmel gelobt wurde. 
Boy Harshers fünftes Album "The Runner" ist kein herkömmliches Album. Es ist das musikalische Gegenstück zum Kurzfilm "The Runner", der zeitgleich veröffentlicht, und von den beiden geschrieben, produziert und gedreht wurde. The Runner ist ein Horrorfilm, verwoben mit einer Metastyle-Dokumentation zu den Albumaufnahmen. Der Soundtrack verbindet cineastische Instrumentalstücke mit Popsongs, die die Grenzen von Boy Harsher's Sound erweitern.
Die Veranstaltung findet statt in Kooperation mit Metropolink's Commissary PHV.
Boy Harsher's fifth release "The Runner" is not a traditional album ⁠— it's the musical counterpart to a short film written, produced, and directed by the duo, entitled The Runner, which was released alongside the album in January 2022. The Runner is a horror film intercut with a meta-style "documentary" about Boy Harsher's recording process. The soundtrack balances cinematic instrumentals with pop songs that push the boundaries of Boy Harsher's sound.

Both the film and soundtrack open with the heavy presence of "Tower." The song is an incantation; with its pulsing synths, it's a spell about desire and impending destruction. By the song's climax, Matthews' pleas transform into desperate screams. "We wrote 'Tower' several years ago and although it's evolved over the years, its initial intent remains the same – that feeling of being enveloped, suffocated, entrapped in a relationship, which in turn manifests into reckless attack," explains Matthews. "What you love the most can make you into a monster. And that's what this song is about, being a paralyzed fiend."  

The visualiser for "Tower" comes from within the world of The Runner —presented as an exclusive session from the NUDETV program "Flesh First," the duo performs the song in a dim warehouse with a masked drummer recorded on analog video.

Since 2014, Boy Harsher have steadily released what some might call the gold standard of darkwave and new industrial. Matthews and Muller met in Savannah, GA while both studying film and their initial interest in music began with cinema. Matthews would write screenplays and Muller would compose scores for the non-existent films. Their first EP, Lesser Man, was originally released on a small run of cassettes, but rapidly gained online traction and became an underground hit. 2016's Yr Body is Nothing LP and 2017's Country Girl EP, propelled the duo into extensive tours and sold out shows across the US and Europe where they became known for their reckless and enveloping live performances. Boy Harsher rode this momentum into 2019's LP Careful, which was praised by NPR Music, Pitchfork, Resident Advisor, VICE and beyond. 

Last year, in the midst of the obvious chaos, but additionally with Matthews' MS diagnosis, Muller started working on moody, cinematic sketches. It was uncertain what these pieces would become other than catharsis — the duo were unable to tour and making "club music" did not feel right. In Matthews' period of convalescence, she kept thinking about a sinister character: a woman running through the woods. Together, the duo developed this idea further into a film that explores lust, compulsion, and the horrific tendencies of seduction. 

Featuring the dark pop that Boy Harsher is known for, the album also embraces the soundtrack ethos by including eerie instrumentals with tracks featuring guest vocalists that feel like they are from different musical groups — "Machina" is a HI-NRG homage performed by Mariana Saldaña of BOAN, sung in both Spanish and English. "Autonomy" is a bright and heartfelt new wave anthem featuring  Cooper B. Handy aka Lucy. Boy Harsher's latest project is a reconciliation of uncertain times made into sound and moving image. The Runner and its soundtrack are both a return to form and an evolution for the duo.