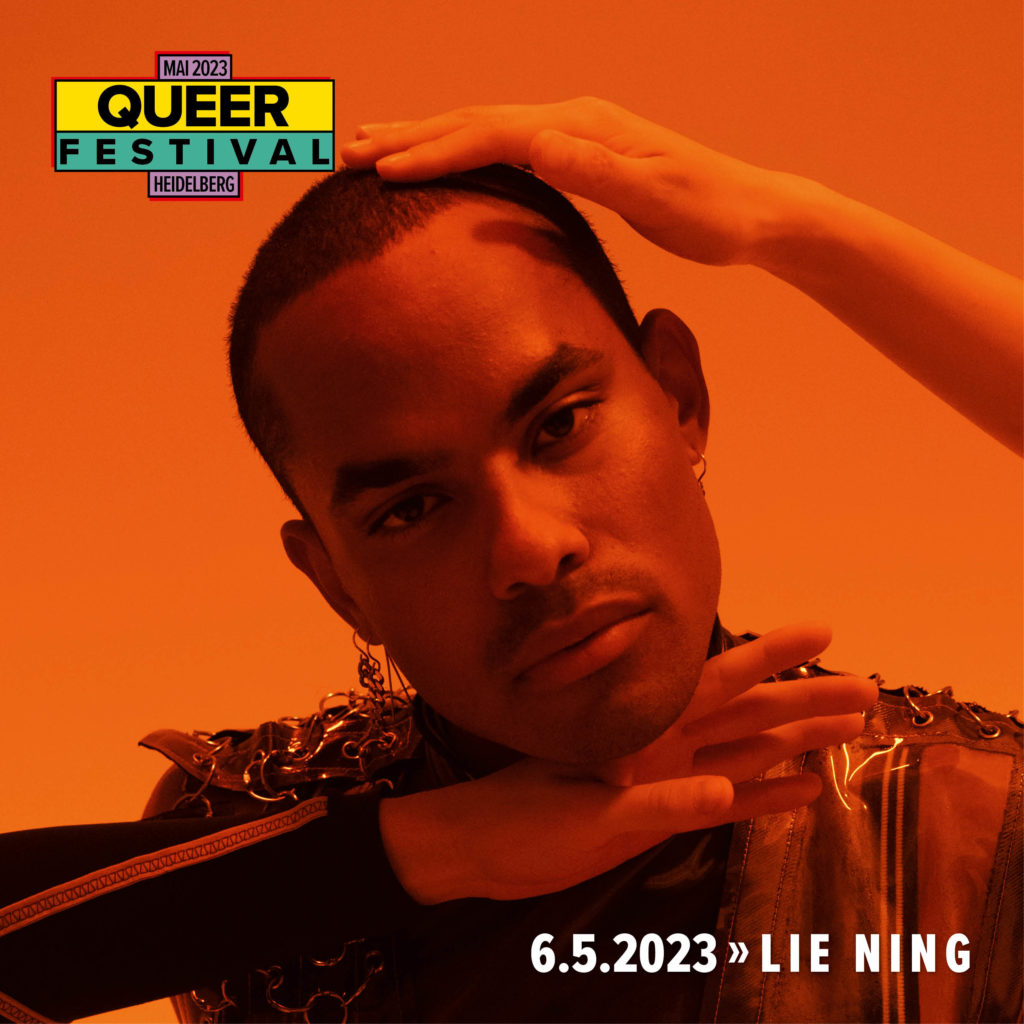 Sa 06.05.23 / 20:00
Einlass 19:00
Karlstorbahnhof Heidelberg, Saal
Abendkasse 27,00 €
Vorverkauf 26,20 €
RSVP via Facebook

Weil es so toll war, kommt Lie Ning 2023 mit neuem Album wieder zum Queer Festival Heidelberg.
Lie Ning ist vieles: Musiker, Model, Tänzer & Art Director, er ist Spokesperson der LGTBQ & POC-Communities. Seine Stimme die stärkste Ausdrucksform, er selbst audio-visueller Ausdruck in Person. Seine grenzenlose Vision bündelt er in seinem Debütalbum "utopia", das im Frühjahr2023 auf Humming Records erscheint. Kurz darauf startet seine erste eigene Tour durch Deutschland. Schon mit den Songs der ersten EP bewies er auf der Bühne eine beeindruckende Reife mit überraschender Tiefe. Seine hypnotisierende Aura zeugt von internationalem Format. Durch samtene Vocals und eine fesselnd intime Intensität leitet LIE NING mit schonungsloser Offenheit an den Ort tiefster emotionaler Verletzlichkeit – eine Spiegelung seiner selbst. Für sein erstes Album, arbeitete er in London mit Grammy-Produzent Stephen Fitzmaurice (Sam Smith, Alicia Keys, Mary J. Blige) zusammen und feilte mit ihm an seinem Sound, der einen stringenten Spagat zwischen Indie, Soul und R'nB liefert. "utopia" ermöglicht ein tieferes Eintauchen in die Persona LIE NING.
***
Lie Ning is a Berlin artist who manages to find a home in music for all our complicated and muddled feelings. Lie Ning's music has a timeless modernity, showing both a tender energy and an intellectual heart. Placed somewhere between indie, pop, wave and disco, it represents a bittersweet home for hopeful melancholy, an island safe from your terrors, a word breaking the silence. What all the songs share, despite the differences in aesthetics and content, is the focus on Lie Ning's voice, like a refreshing fall of rain on the record's instruments. This is just the start for this musician, and the future promises greatness.
***
"His voice is like the spiritual child of Billie Holliday and Anohni, vibrating with melancholy and deep pools of emotion. Lie Ning is moved by the atmospheric creations of Jill Scott and the storytelling ability of Lauryn Hill."
– Papermag, New York
Lie Ning
Concert
Saturday, May 9th
Doors open 7pm
Start 8pm
EUR 26.20 advance / EUR 27 on the door
Karlstorbahnhof
Lie Ning is many things, among them musician, dancer, art director and spokesperson for the LSBTIQ+ and POC communities. His voice provides his strongest form of expression and Lie Ning himself is audio-visual expression personified. His artistic vision knows no bounds and has been gathered on the debut album "Utopia", released in April 2023 on Humming Records, to be followed directly by his first tour across Germany. He proved an impressive maturity and depth with the songs on his debut EP, and his hypnotic aura indicates an artistic who can take on the world. His vocals are silken, underlining an intense intimacy and unsparing openness that take the listener to places of deep emotional vulnerability – Nie Ling viewing himself in the mirror. On his new album he worked in London with Grammy-winning producer Stephen Fitzmaurice (Sam Smith, Alicia Keys, Mary J. Blige) and collaborated on a very personal sound that straddles the genres of indie, soul and RnB.