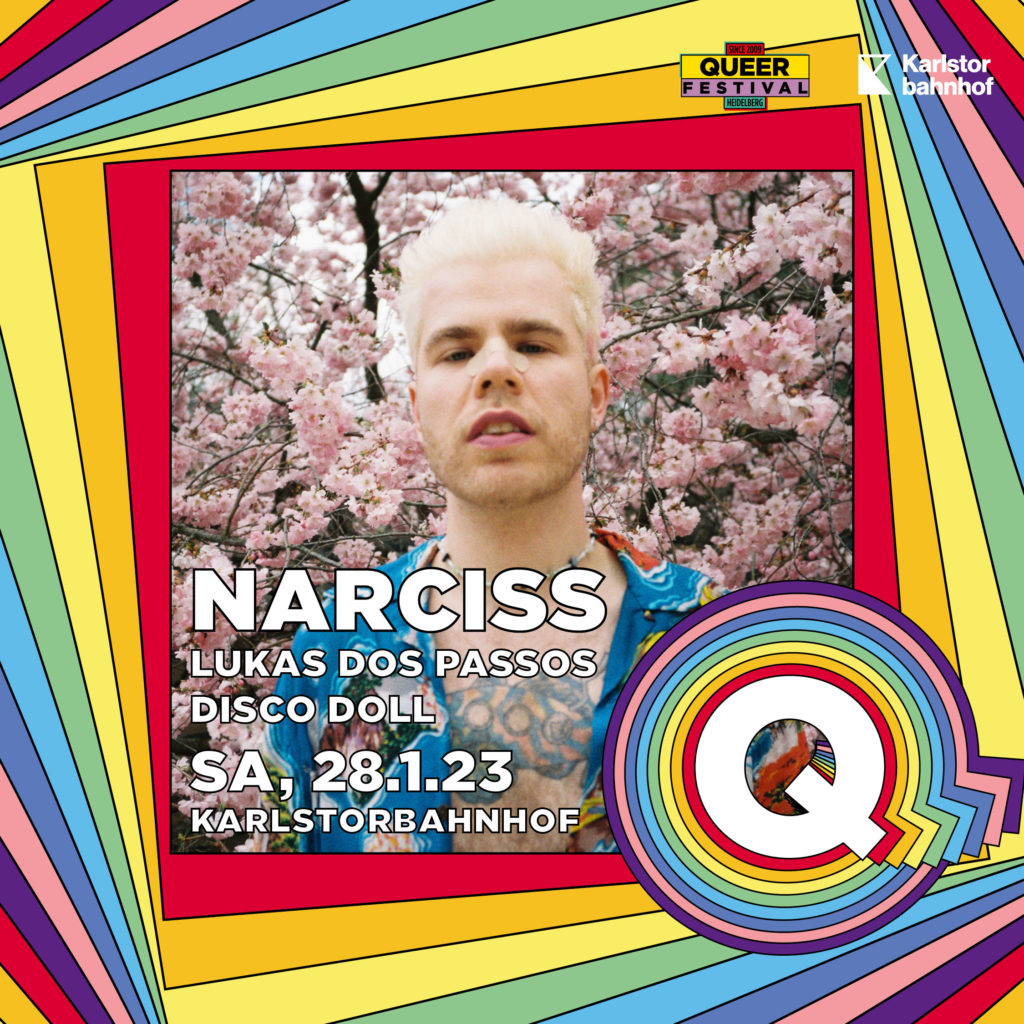 Q Party w/ Narciss, Lukas dos Passos, Disco Doll
Sa 28.01.23
Einlass 22:00
Karlstorbahnhof Heidelberg 
Marlene Dietrich Platz 1, Heidelberg
AK: 12 Euro
RSVP via Facebook
The Q ist eine Party Reihe von queeren Menschen für queere Menschen und deren Allies. Unser Ziel ist es, allen queeren Menschen einen Raum zur freien Entfaltung zu bieten. Gerade deshalb ist es wichtig, dass ihr euch bewusst seid wie viel Raum ihr auf der Party einnehmt und wie ihr miteinander umgeht. Unsere Party ist ein Ort, an dem achtungsvoll mit den Grenzen unserer Mitmenschen umgegangen wird. Folglich dulden wir keine Grenzüberschreitungen und keine Form der Diskriminierung, seien diese sexistischer, queer feindlicher, rassistischer oder anderer Art.
Aufgrund von Raumkapazitäten bitten wir Allies darum queeren Menschen Vorrang beim Einlass zu gewähren.
 ***
"Narciss is quite a phenomenon when it comes to musical unpredictability.
Despite being a child of the 90s, they live and breathe musical knowledge. Soaking up everything that catches them, whether it's rhythmic elements, melody or even just moods within a song. The underlying key element of everything they touch is groove and swing, as Narciss has proved time and time again: They understand what makes people move physically and emotionally. Claiming influences from pretty much a dozen genres from all angles of the spectrum makes them an absolute experience to witness behind the decks. Don't make the mistake to dive in with expectations about the musical direction they might take – Narciss will shatter them anyway. What you can expect however is an energy of overboarding joy paired with body-moving grooves, putting smiles on anyone in the vicinity. Appearing first on the Leipzig-output Seelen Records and subsequently joining London's Lobster Theremin family, shows the importance of labels that hand musical freedom over to Narciss – just let them do their thing and you can rest easy."