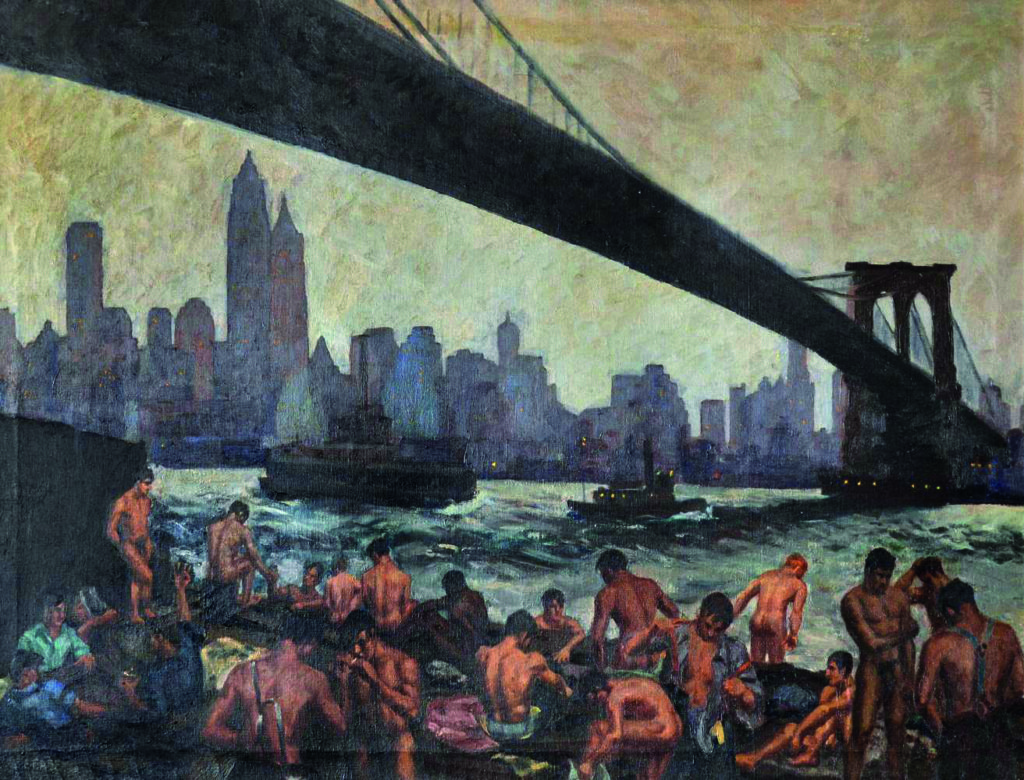 WHEN BROOKLYN WAS QUEER
am 16. Mai 2019 aus der Reihe "Queer History" beim 11. Queer Festival Heidelberg.
Hugh Ryan will read from his groundbreaking new book When Brooklyn Was Queer, an exploration of the LGBT history of Brooklyn from the early days of Walt Whitman in the 1850s up through the queer women who worked at the Brooklyn Navy Yard during World War II, and beyond. No other book, movie, or exhibition has ever told this sweeping story; not only has Brooklyn always lived in the shadow of queer Manhattan neighborhoods like Greenwich Village and Harlem, but there has also been a systematic erasure of its queer history—a great forgetting. Ryan unearths that history for the first time in intimate, evocative, moving prose, showing how the formation of the Brooklyn we know today is inextricably linked to the stories of the incredible people who created its diverse neighborhoods and cultures. Through them, When Brooklyn Was Queer brings Brooklyn's queer past to life, and claims its place as a modern classic. To be followed by a Q&A.
Eine Veranstaltung im Rahmen des Baden-Württemberg Seminars des Heidelberg Center for American Studies in Kooperation mit GKAT.

Lesung in englischer Sprache
Referent*in Hugh Ryan
Zeit 16. Mai, 18:00 Uhr
Ort Atrium des Heidelberg Center for American Studies
Der Eintritt ist frei
———————–
Queer History
Queere Geschichtsschreibung, die eine sexuelle und geschlechtliche Vielfalt in vergangenen Gesellschaften und Kulturen abbildet, ist nicht nur in der Akademia immer noch marginalisiert –Queer Studies sind allgemein noch wenig an deutschen Universitäten verankert. Auch in der kollektiven Erinnerung scheinen bislang historische Akteur*innen der LSBTTIQ*-Community wenig Raum zu haben. In Heidelberg stand in diesem Jahr erstmals die Verfolgung von Homosexuellen im Zentrum der Gedenkfeier für die Opfer des Nationalsozialismus am 27. Januar im Heidelberger Rathaus. So wurde auch der Aufarbeitung der Geschichte der LSBTTIQ*, die im Rhein-Neckar-Gebiet seit vielen Jahren und immer noch überwiegend ehrenamtlich mit viel Engagement geleistet wird, eine breitere Aufmerksamkeit zu Teil.
Die Veranstaltungsreihe "Queer History" schließt an diese Aktivitäten der Region an und bietet zugleich auch Vorträge, Lesungen und Filme mit externen Referent*innen aus Deutschland, Großbritannien und den USA an, um eine möglichst vielfältige Kostprobe der "Queer History" dieser Gesellschaften ab dem 19. Jh. zu geben.
Die Veranstaltungsreihe ist eine Kooperation zwischen dem Amt für Chancengleichheit Heidelberg, dem Institut für Geschichte und Ethik der Medizin der Universität Heidelberg, dem Universitätsarchiv Heidelberg und dem Queer Festival Heidelberg.